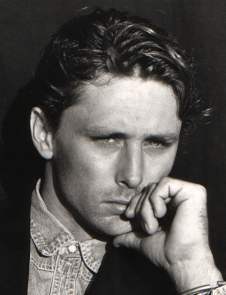 Greetings Adventure Bound Fans!
My name is Richard (Rick) Snel, and I feel that you will be very interested in what I have to offer. I am a documentary filmmaker and producer, based in Adelaide, South Australia.
Having helped to create over 30 episodes of the well known Alby Mangels' Adventure BoundSeries ... shown on The Travel Channel in the USA, and on Channel 9 Australia, I feel I have been uniquely trained to act as your guide to adventure.
As an integral member of Alby Mangels' creative team, for over 15 years, I co- presented, filmed and edited the a good majority of Alby Mangels' films, – including those that have had the highest ratings. From the vast experience I gained during this period, I was inspired to start my own production company:
and my own series called Wild Adventures.

The following newly completed programs are for sale on 'Video or DVD' – Three episodes at 44 min. = 132 min.

Wild Adventures

Episode I - Arnhemland
Episode II - Dance to heal the Earth
Episode III - Uniting cultures

I am now in the process of seeking distribution to a number of International television networks. In the mean time, I am offering these three shows to you.

Wild Adventures began four years ago, alongside the Yulgnu Aboriginal clan. We created our first episode, 'Arnhemland' which was taken by Channel Ten AUSTRALIA and Beta Film GMBH GERMANY, and aired in July 2001, receiving excellent ratings for its time slot.

The series - Wild Adventures

'Wild Adventures' explores a cultural quest of discovery, immersing the viewer into the lifestyles of indigenous people around the world. A continuous journey which compares similarities, and differences, whilst observing day to day existence in modern society, as they continue to maintain and promote their history, art and culture, through storytelling, song and dance. There is much to learn from these people, as we experience their traditional way of life, trying to understand their unique existence in the framework of our world. This work is quite significant and relevant to the current interest in global issues and international culture ... an audio / visual experience capturing the essence of humanity and the environment.

These three episodes, I have created, are the beginning of a thirteen part series – all particularly focussing on cultural similarities/differences of indigenous cultures, and commencing with a comparison between Australian Aboriginals and Native Americans.

Episode #1: Arnhemland

Join myself, and my cousin Darren Mangels, as we traverse the beaten track into Arnhemland ... an incredibly unique part of the world situated in the North east of the Northern territory of Australia. This is the last real stronghold of traditional land. 'Arnhemland' explores the Yulgnu Aboriginal way of life and some of the fascinating wildlife to be found in the area. It ventures through remote and beautiful areas touching on breathtaking water holes, thick bush and open beaches.

Town and mining life is explored in Nhullunbuy Gove where the initial settlers intended to remain for only 2 years and some are still there 26 years later. This land is leased from the Aboriginals which expire in thirty years.

Arnhemland is an exploration of little known, greatly fascinating people and a way of life that very few people have been privileged to see. Until now no one has been able to film the footage contained in this documentary which relates to the Aboriginals. Arnhemland was also the location for the filming of Crocodile Dundee a land which requires tribal permission for filming. I was honored to be accepted by this Aboriginal clan and recorded their way of life over a 6-month period. Australia is a country of diversity and multiculturalism

Episode II - Dance to heal the earth

Episode III - Uniting cultures

In these two 'Wild Adventures' the viewer is taken to the out-back of Australia to ride shotgun at an Oz style rodeo, and also witnesse the Americans attempt to break the land speed record for a motor driven motor cycle on the driest salt lake in the world.

Then joining my American friend Kimber Sparks, to explore the deep south of North America, we experience all the wonders and beauty of the Choctaw Native American people and their surroundings, highlighting the cultural similarities to those of the Australian Yulgnu Aboriginal people ... both who take pride in preserving their traditions, while playing a significant role in today's multicultural society.

My dream of uniting cultures, by the sharing of history, art and culture and the swapping symbolic cultural icons - the Australian didgeridoo and the Native American flute, comes alive when introducing Australian Aboriginal culture to the Native American Choctaw Indians

These special documentaries features an incredible journey deep into the way of life of the Native American Intertribal Indians as seen in modern times.

Studying the cultural unity between these indigenous groups, we try to explore some of the issues they are facing daily, while maintaining their identities in this contemporary society. It emerges as an incredible journey deep into the way of life of the Native American and Aboriginal Tribes.

I consider the work I have completed to be very special and relevant to the current interest in global issues and international culture ... an audio / visual experience capturing the essence of humanity and the environment.

The focus of my work is on the uniting of cultures, through the folklore and the cultural traditions that have been passed down through ancestral lines. These histories are a unique form of wisdom that sometimes seems forgotten in these uncertain times.

Following are some concept highlights of my work, which focus on educating the viewing population about Australian, and many world cultures, through high-quality documentaries.

* Music - depicting how Native Americans and Aboriginals differ and are similar, culturally, with hunting, music, instruments, dance, dress, etc.

*Children of the world -- how kids grow up in minority tribes/clans, compared to the stereotypes that society has placed upon them. * A portrayal of how both cultures, Australian Aboriginals and Native Americans, were subjected to the same type of treatment from the "white man", and how many have reconciliated quite successfully considering cultural obstacles.

* Animal respect - how both cultures have a tremendous respect for animals/nature and view them with similar theories.

* Fighting armor - both use colors/paints/etc. when preparing for battle, ceremonies, funerals, etc.

* Similar courtship/dating/marriage rituals in both cultures.

Existing Broadcasters:

The film "Arnhemland", by law, is permitted to show in the Europe countries listed below, contracted with Taurus Film GmbH &Co. located in Anterfohring, Germany; the rights to be aired in these said countries were agreed upon: Netherlands, Belgium, Spain, Portugal, Germany, Italy, Luxembourg, Switzerland, and Austria.

History of the Producer/ Presenter – Rick Snel

Born on the 11th June 1968 of Dutch immigrant parents in Adelaide, South Australia. My interest in documentaries stemmed from working as presenter, editor and producer, with my well known uncle Alby Mangels, on several travel adventure documentaries which took us around the world.

Of the 30 documentaries of which I was a part, shooting was done in locations such as the Simpson desert (Central Australia), Coorong (South Australia), Whit Sunday Islands (Queensland Australia), South Africa, Namibia, Botswana, Zimbabwe, Zaire, Uganda, Brazil, French Guiana, Surinam and the Caribbean. These documentaries have screened, and were well recieved throughout Europe, America, Australia and New Zealand

If you are interested in owning your own copy of these three Wild Adventure episodes ... all for the excellent price of $40, or if you have any questions, or require further information ... please do not hesitate to contact me on 0011 61 88 3223571, 0407031380 or by email at:

wild_adventures@optusnet.com.au.

Please let no know if you would like a NTSC or PAL - VHS format.

I am confident that you will be pleased with your decision to support our efforts, and that you will find Wild Adventures episodes: 1, 2 & 3 to be a very exciting, and educational experience.

Thanks!

Yours faithfully,

Richard (Rick) J. Snel
Perception Films




Contact Rick
From Alby Mangels - An American Perspective:

Rick Snel, Alby Mangel's nephew, has his own film company.
He has admirably picked up the banner to keep filming adventures, and help humanity to see the other-side, in order to inspire the public to save what little is left from destruction.
His films are spectacular, as he continues that sense of connection, that feeling ... that you are right there with him, first exhibited on Alby's films and which makes them so very special.
Please stop by, visit, and see how you can help promote this wonderful video artist.
Appreciation of the tremendous effort, and cost, involved in making these educational films is a good place to start. Share them with your family and friends. These videos make great gifts.
Also, write to the discovery channel and tell them you want more relevent travel and nature programing ... beg for more of both Alby Mangels and Rick Snel.
If you have been financially blessed in this life ... work to save the gorillas, hell ... save the world!
Support those people, and organizations, that are out there risking their lives to keep you educated, and entertained!

For more great pictures of Rick and his friends, click on over to: Travel Cont.